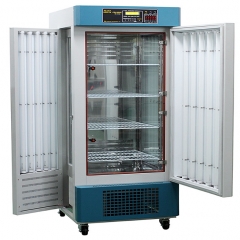 PLANT GROWTH CHAMBER
Application : 0~60`C 35~95% R.H 0~25000 LUX 10 Step Program
Feature
- The light sources are located on both sides and front.
- 10 Step programmable controller provides various environment for user'sDemands.
- Electric humi sensor & evaporative Humidifier controlling 35~ 95% humidity precisely.
- Large capacity of compressor provides stable temperature and 2 set of Compressors keep the temperature during defrosting.
- Auto-tuning, Self Testing, Password function for user's convenience
- Various safety functions (Over-heating sensor, Over-cooling sensor,water-level)
Specification
MODEL NO

PH-GC303D

PH-GC303DH

Temp. control

10 Step Program P.I.D Controller

Temp. Range

0'C to 60'C (Light ON : 10'C to 60'C)

Temp. Accuracy

±0.2'C at 20'C

Humid. Control

-

10 Step Program P.I.D Controller

Humid. Range

-

30~98% R.H

Humid. Sensor

-

±2% at 20'C 70%

Humidity

-

Evaporation By Motor With SUS316 Pipe Heater

Illumination Control

Photoperiod Control, Exclusive S/W

Illumination

0~23000LUX / F.L 40W x 15EA

Lux Meter

0~30000LUX LCD Display, Movable Sensor Position

Dimension(IN)

500x500x1200(H)mm / 300 Liter

(OUT)

680x830x1910(H)mm

Material(IN)

Stainless Steel

(OUT)

SCP-1 With Powder Coating

(SIDE WALL)

Vacuum Triple Pair Glass

Door

Double Door, Silicon Packing Magnetic Door

Shelves

4 EA Adjustable Type

Compressor

3/4 HP

Utility Device

Recorder Jack, RS-232C Interface

Safety Device

Water Level Monitor, Power Breaker S/W, Over Under Temp. Protector

Power(AC 220V, 50HZ)

3KW

3.5KW