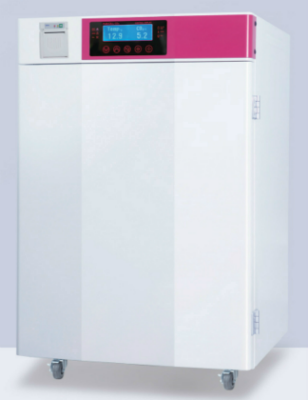 Such as bacteria or animal cells under conditions of constant temperature and CO2
Storage / culture. To minimize variations in the set temperature and CO 2 concentration.
After switching the device to study the recovery rate is faster / designed.
Inside the chamber Stainless steel 304 material / equipment Although outside for corrosion protection Liquid powder coating is used Cr 41 Steel plate. Block the outside air inlet into the chamber and the door packing made of silicone, Outside of the CO2 in the chamber to minimize spills. The height adjustable shelves in the chamber is possible.
A circulation fan installed in the chamber to minimize the internal temperature range.
It is possible choice of Water jacket / Air jacket type. Easy operation and good visibility LCD Display with Touch applications. It can be precise and stable operating as a Digital PID Controller of ways. It may be a fine dispersion type dual beam CO2 concentration control, non-partitioned infrared sensor.
SPECIFICATION
427× 452× 570(adjuster for height)

633 × 634× 965(including caster)

Resistance temperature detector (R.T.D)

Water jacket heating system

Dual-beam non dispersive infa-red sensor

O2 Medical sensor M-04 or M-06

Glass door, silicone packing magnet door

(in) Stainless steel (out) Steel plate with power coating

Exclusive over temp. protector

AC220V~240V,5A, 50/60Hz, 1phase

RS- 485 Interface port, software, com port cable, thermal printer